3 Common Online Scams you Must be Aware of
Since the popularity of the internet on our mobile phones and other gadgets, many things have also started to adopt cyberspace. You can now order foods and groceries online, and they will be delivered right to your doorstep; you can make payments in a few clicks, store your money on various e-wallet platforms, and shopping and business can now be established online.
Minutes to Read: 8 minutes
Age Bracket: 21 – 40 years old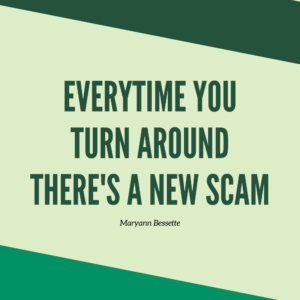 With the continuous rise of e-commerce and other online services, people into illegal activities also adopted the internet to do their illicit stunts to fool people. Sometimes, it is inevitable to avoid them since they do not look suspicious, which causes them to victimize numerous people. Educating yourself on activities like this is the first step to avoiding being a victim of online scams, and here are some information you should know about.
What is an online scam?
Since the existence of the internet, there are also scammers everywhere. We may not know about them or even notice them lingering around the website you're visiting; they are always there waiting for you to share your sensitive and private information that they can use to trick you. With the continuous progress and advance of e-commerce and other internet services, scammers or frauds also continued to become craftier and better with what they are doing to the point that their fake activities look like the real thing and are not suspicious at all.
It may be horrible news, but according to the research done by the Statista Research Department, a survey between March and September 2019 showed a total of 633 online fraud cases. And by 2020, the number increased by 37%, with a total of 869 total cases.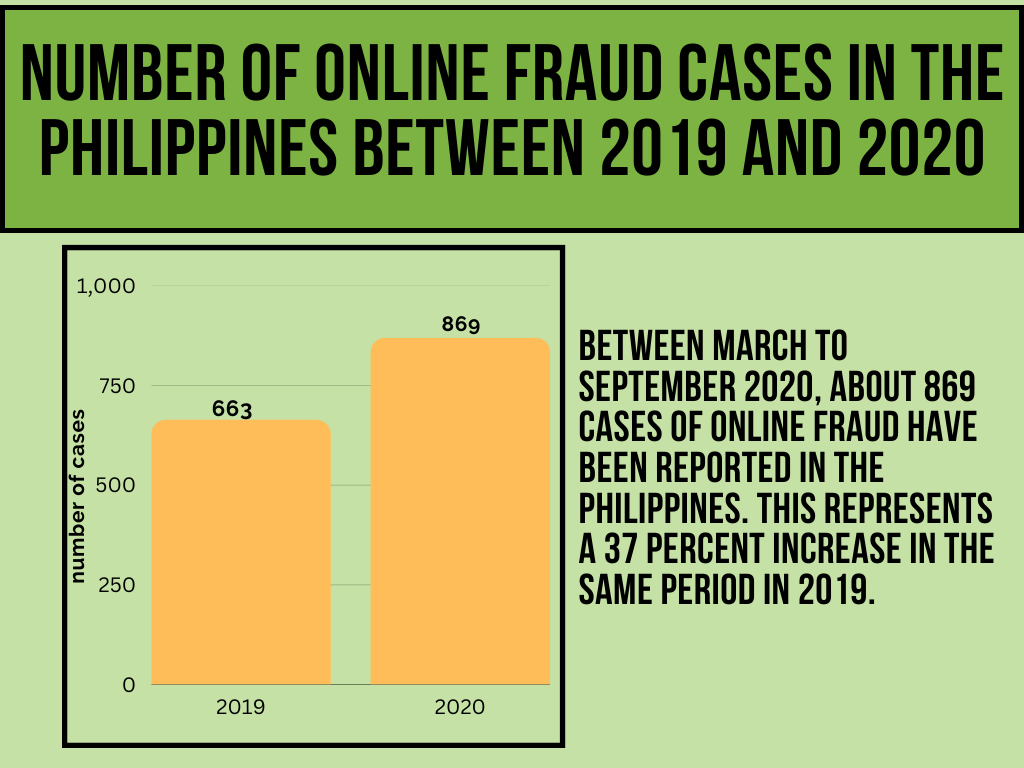 Online scam, or internet fraud, is an illegal activity done by scammers using internet technology to victimize and defraud people for their financial gain. Different activities are done to scam people, such as fake websites, malicious software, fake websites, and phishing, to allow them to access the victim's personal information to access their bank account or blackmail them into giving them money.
Since the continuous progress of online scams in the country, their trick has also evolved. They adopted the popularity of e-commerce, which allows them to trick people from the business part of the internet and more. Given the high number of fraud cases in the Philippines and the continuous activities of scammers, it clearly shows that Filipinos are vulnerable to tricks like these. To avoid a situation like these, educate yourself by knowing the common scams you might encounter.
Online Shopping Scam
Filipinos are fond of buying or shopping for things online. We may want excellent and nice quality items for ourselves or our home, yet we don't want to spend that much on buying stuff. Online shopping scam is the most common scam in the country. It is an illegal activity where an online scammer pretends to sell a non-existing product. After the transaction, the scammer can run away with the money you just paid them, leaving you with no item that will be delivered to you.
There are also cases where they use a fake ad endorsing a "very effective product" with a high price. They also offer free delivery or buy one take one on the product to make you more interested in buying what they offer. Online scammers are pretty clever in doing this stuff, deceiving people and believing that this product actually exists through their cunning marketing skills, making it appear that they're offering a genuine product. Once you have transacted with them, you either won't receive a product or receive something entirely different from the product you ordered.
How to avoid online shopping scams?
1.      Watch out for Red Flags
Whenever you're buying something, always be wary of the items available in the market. Knowing which is legit and which is "too-good-to-be-true" might help you avoid transacting with a scammer. Examples of red flags are high-end products with incredibly low prices, insisting on immediate payment before sending the product, asking for your financial information, and contact details not shown on their website or social media accounts.
2.     Shop on trusted apps or websites
Shopping on trusted apps and websites gives you the peace of mind that you're buying from someone legit rather than risking your money on some sketchy sellers from various websites. When shopping on an unfamiliar website, ensure the URL starts with "https" and not "http" with a closed padlock icon beside it. The website provides a security feature to protect all your private sensitive information.
3.     Verify the seller and its product
If you're planning to use your credit card or any card to pay for your purchases, ensure that your seller is legit. It is a common practice for Filipinos to ask for their seller's IDs to verify them. You can also ask the seller regarding the product you're about to buy. Legit sellers often provide much information about the product they're selling to advertise them. If the seller can't answer the question you're giving them, it's a high chance that it's a scammer.
4.     Never share your private sensitive information.
Always think twice before providing your sensitive financial information to your seller. A scammer usually gains your trust before doing what they planned. Giving them want they want may result in your financial and identity destruction since scammers can get hold of your private information that they can use when doing illegal activities, which can be blamed on you. Instead, use a safer payment option where you don't have to share your financial information. Mode of payments like cash on delivery (the safest) and money transfer using your e-wallet or online banking.
Romance Scam
There's a chance that you haven't heard of this kind of scam, but it is common and usually victimizes people who leave their guard down. Scammers create fake accounts, photos, and names they typically get from the internet. The worst part is they're using someone else's photos and pretending it is them, which is common on dating sites.
Since Filipinos are fond of looking for the "right one" on the internet, scammers use this to lower their defenses. They will befriend you and confess they have a strong emotion towards you, even in a relatively short time. This way, they will trigger your romantic and compassionate side to gain your trust. Once the scammer has a strong "connection" with you, they suggest moving your communication to a more convenient messaging like phone texts/calls, Facebook messenger, or others.
Scammers will claim to be working overseas or somewhere far from you. If the relationship has already been spent an extended period, they will make an effort to make you believe that what you have is real by sending gifts and such, which allows you to share your private information. Once he's sure that you completely trust him, they will ask you for money for emergencies, like he's been involved in an accident or got ill. Someone can also contact you pretending to be a doctor, for example, claiming that your partner engaged in a severe medical case to make it more believable. If you are a fool and believe in everything, you can lose a huge amount of money.
How to avoid romance scams?
1.      Be wary
Whenever you're on a website or app that allows you to communicate with strangers, always consider the possibility that the person you're talking to is a scammer. Despite their persistence, do not quickly believe in everything they say and try to remove your emotions when making a decision.
2.     Do not share your private information.
We are constantly reminded to avoid giving our private information on the internet, including giving it to random strangers. Always be careful about the amount of information you share and send your photos to them since there's a possibility that they will use them to create another fake identity and scam other people. Additionally, sharing any financial information in any form should be avoided. If you think you have provided your financial accounts to a scammer, contact your bank immediately and inform them about the situation.
3.     Always think twice.
If you have arranged a date with the person you're talking to, you should at least tell a friend or a family member where you're going. Suppose the stranger asks for money for their fare or travel ticket where you have to transfer money online; decline the request since it is impossible to recover the money you sent online. In cases when he informs you that he needs urgent financial help, always think twice before sending and verify if the situation is legit.
Banking and Online Account Scam
With the common use of online banking and digital wallet in today's age, scammers may have found a way to gain access to your accounts and rob the money you've been saving. It may be convenient for us to use it in purchasing everyday necessities, but hackers can also easily access them if we're not careful enough. Here are the common online banking scams in our country.
a.     Card Skimming
Card skimming, sometimes referred to as ATM or Data skimming is the illegal process of copying your bank account's information from the magnetic stripe behind your ATM or Credit Card. Scammers use illegal skimming devices that allow them to read the details on your magnetic stripe, make a copy and steal your card's details. Once they make a clone of your card, it will be easy for them to access your bank account and run up charges and banking transactions such as withdrawals and fund transfers.
How to avoid Card skimming?
1.      Transact safely
Always be wary of the ATM Machines you will be using. Always take your time checking the machine to see if it's safe to use. If you're purchasing something and will use your card as a form of payment, make sure the seller can be trusted and don't let your card out of your sight. If they prefer swiping your card out of your sight or want to swipe it on another machine, ask for it immediately.
2.     Check your statements
You will be given your bank account and credit card statements, together with your monthly payments. Once you have them, it's best to check for all your transactions made in a month and see if there are suspicious transactions. If there are, report them to your bank.
B.    Phishing
Do you ever wonder where the name phishing came from? It came from the analogy of using emails as bait to lure victims into giving them their private financial information. Phishing usually comes in the form of email; it can also be in the form of fake websites replicating existing legit sites and businesses. Once you are tricked by these emails or websites, you will be tricked into providing your personal information and financial data that they will be using to commit fraud.
How to avoid Phishing?
1.      Verify the email or website
There's only one way to avoid being a phishing victim: to make sure that you're transacting with a legit email or website. Verify it by looking at the website's URL and checking if it starts with "https:" instead of "http:" with a closed padlock beside it. If you think it's a replica of a legit website, you can check for misspelled words that indicate that it is fake. If you find a phishing email or website, report your suspicions.
C.    SIM Swap Scam
Since most of our accounts are connected to our personal sim cards, SIM Swap Scam is now a new form of online fraud in the country. It is a process of scammers visiting telecommunication companies and pretends as the legit mobile subscriber or an authorized representative of the subscriber and asking them for SIM Card Replacement. Once they are successful with the SIM replacement they requested, they can now access the victim's personal and financial information.
How to avoid SIM Swap Scam?
1.      Do not share your personal number.
Since the start of the pandemic, giving out our numbers on the entrance sheet of an establishment after checking our temperature has become common. With this, scammers had access to or had copies of different mobile numbers that they could use to scam. It's best to have another SIM card for purposes like this when you are required to give your mobile number to strangers. Keep your personal number to yourself and share it with your trusted colleagues.
Final Thoughts
Always be careful and never share your private information; this is a common reminder that we are constantly given since the start of internet use. Interacting with scammers can be something that is unavoidable, but there are specific measures we can follow to avoid being a victim of fraud. Be wary, stay safe, and don't let your guard down.
MUST-READ AND SHARE!
2023 Your Practical Wedding Guide
Your Ultimate Access to Kuwait Directories in this COVID-19 Crisis
Investments and Finance Ultimate Guide
OFW FINANCE – Money News Update that you need to read (Table of Contents)
A Devotional for having a Grateful Heart
Stock Investment A Beginner's Guide
How To Save Money Amidst Inflation
Philippines Best Banks with High-Yield Savings Return
Essentials Before Applying For a Credit Card
Credit Card Starter Guide for Beginners
If you like this article please share and love my page DIARYNIGRACIA PAGE Questions, suggestions send me at diarynigracia @ gmail (dot) com
You may also follow my Instagram account featuring microliterature #microlit. For more of my artworks, visit DIARYNIGRACIA INSTAGRAM