Last Updated on 10 months by DiaryNiGracia

Top 10 Banks to Open an Account
Having multiple bank accounts at the same time has many more advantages. You'll soon realize the benefits of keeping savings accounts, including asset protection, peace of mind, access to an emergency fund, and a small interest on deposits. 
Minutes to Read: 16 minutes
Age Bracket: 18-50 years old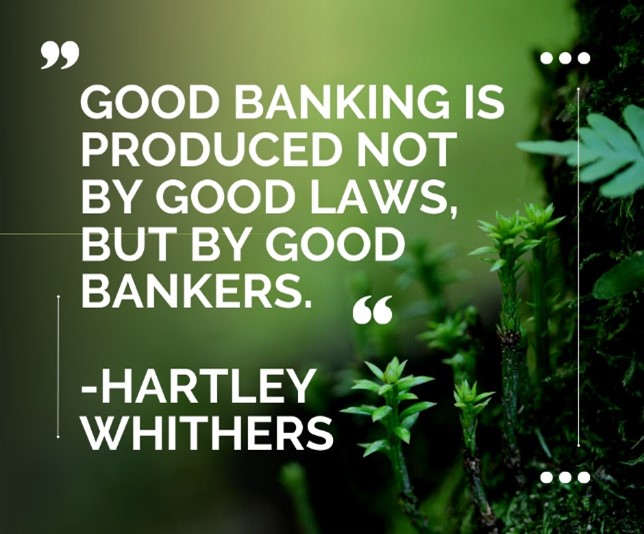 Ownership of an account kept in a formal financial institution, such as a bank, an e-money provider, or a microfinance organization, is vital to financial inclusion. Use for savings, daily expenses, remittances (sending and receiving), income, and benefits.
The Philippine Statistics Authority (PSA) acknowledged the Bangko Sentral ng Pilipinas (BSP) to conduct the 2021 Financial Inclusion Survey (FIS) by the RLR Research and Analysis, Inc. 
The 2021 FIS is a survey carried out every two years to collect information on financial inclusion in the Philippines, including information on the availability, ownership, use, and standard of financial products and services. The survey's findings will present a complete picture of how financial inclusion is faring in the Philippines. They will assist in identifying gaps, setting priorities, tracking advancement, and developing policies and programs for financial inclusion.
One thousand two hundred people aged 15 and above would be interviewed for the 2021 FIS from January to March 2022 with a budget of PhP 3.90 million. The survey's findings are to be made public in July 2022. You may access the 2019 FIS findings at the 2019 Financial Inclusion Survey – BSP.

For 2022, in this article, I'll provide the Twenty biggest Philippine banks and Ten high-yield savings accounts to help you choose the best one to put your hard-earned money in. Think about high-interest rates, initial deposits, balance, and the amount of interest earned. 

The minimum deposit is the first-factor account holders consider when opening an account. Interest rates, maintaining a balance, the financial institution's reputation, and the documentation requirements to open an account are further essential factors. Also, dormancy charges and how the financial institution treats its clients affect the primary consideration in opening an account. It seems that while considering whether or not to create an account, account holders are less worried about the financial institution's location and waiting times.
A bank is a financial institution with authority to grant loans and accept deposits for checking and savings accounts. The national government or a central bank typically controls these entities. Personal and business deposit accounts, certificates of deposits, currency exchange, and loan services are just a few of the frequently offered services by banks.
Most people are aware that banks are safe places to store your money. A bank does more than that, in any case. In essence, banks are financial organizations that engage in lending and borrowing. Customers deposit money into their accounts, and the bank pays them a yearly interest. The deposited funds are eventually lent to other consumers for various bank loans.
Types of Banks in the Philippines
There are things to consider when selecting the best bank in the Philippines. Considering the following factors, you can determine whether a bank truly offers excellent service. If you have a greater understanding of what these banks are and what they do, you can understand better how they can help you. Of course, you may always add extra conditions that your knowledgeable friends or family have suggested.
Universal & Commercial Banks
Banks known as universal banks provide a wide range of banking and financial services. Investments, business banking, development banking, and insurance may fall under this category. Other benefits include deposits, payment processing, insurance, asset management, credit cards, loans, and financing. Nevertheless, commercial banks meet all of their clients' fundamental requirements. Commercial banks provide standard services, including credit, current and savings accounts, and loan programs. Commercial banks can provide services to people, but their focus is on helping and assisting businesses. These banks are available to serve the various needs of both small and large organizations.

Thrift Banks
This sort of bank, also known as Savings and Loan Associations, is a type of financial institution that provides savings accounts and supports people in purchasing homes. Shareholders and clients may own these banks. Savings banks, commonly referred to as thrift banks, focus on cash deposits. In the Philippines, many thrift banks are managed by companies that hold commercial banks.

Rural & Cooperative Banks
Rural banks offer small, specialized financial services in the provinces. By lending to farmers, for example, they support the economy in rural areas. Rural banks are common in rural communities, as their name implies. These banks' primary duties include offering locals access to essential financial services and helping to grow the local economy. On the other hand, cooperative banks resemble rural banks, but their ownership is independent. Cooperative banks are owned and operated by a federation of cooperatives, as opposed to rural banks, which are privately managed and owned. These banks play a crucial role, particularly for farmers.
Digital Banks & Neobanks
Regular banks that offer internet services are known as digital banks. The pandemic has made digitizing financial services even more critical in recent years. Advanced automation, security, and programming make this possible. Neobanks are wholly digital financial institutions, in comparison. They don't have a physical branch, in contrast to digital banks. These banks typically provide a wide range of services targeted at tech-savvy people. In the Philippines, banks that are entirely online or digital are a growing trend in banking. They don't have any physical locations; they operate online. A mobile app is used to carry out most transactions, including account opening, financial transfers, and bill payments.

Non-Banks with Quasi-Banking Functions
These financial institutions, also known as NBQBs, borrow money for the borrower's account from more than 20 lenders through the endorsement, issuance, or assignment of deposit substitutes for re-lending or purchasing receivables, among other requirements. They make contractual savings, market brokering, risk pooling, and investment risk pooling possible.
Some of these banks have existed throughout various eras of Philippine history, and The Banko Sentral, the country's central bank, oversees the activities and operations of all banks there. For banks to have provisions on loan profits and losses, cash flows, how to handle bankruptcy, and all the workings and fluctuates of investments, the Banko Sentral also publishes directive policies. According to The Banko Sentral ng Pilipinas, the biggest banks in the Philippines are listed below in order of deposits (amounts in Million Pesos). 
Top Banks in the Philippines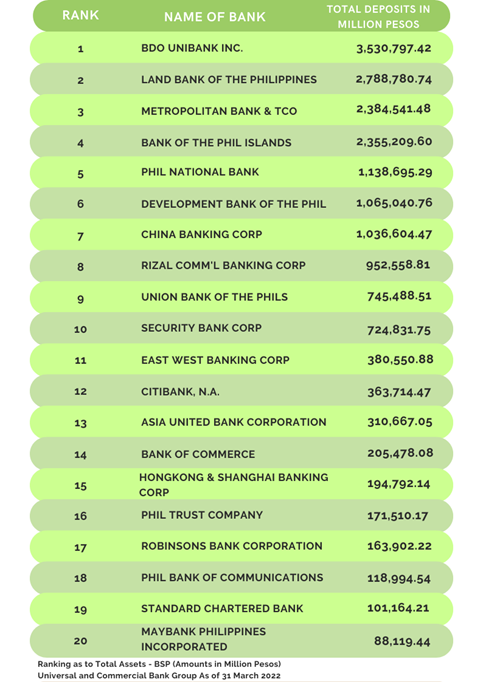 It's good that several high-interest savings accounts are available from both regular and online banks that give quicker returns on savings. These bank accounts have interest rates seven to ten times higher than regular ones. Even from your home, you can open a high-interest savings account in the Philippines.
The Top 10 High-Yield Savings Account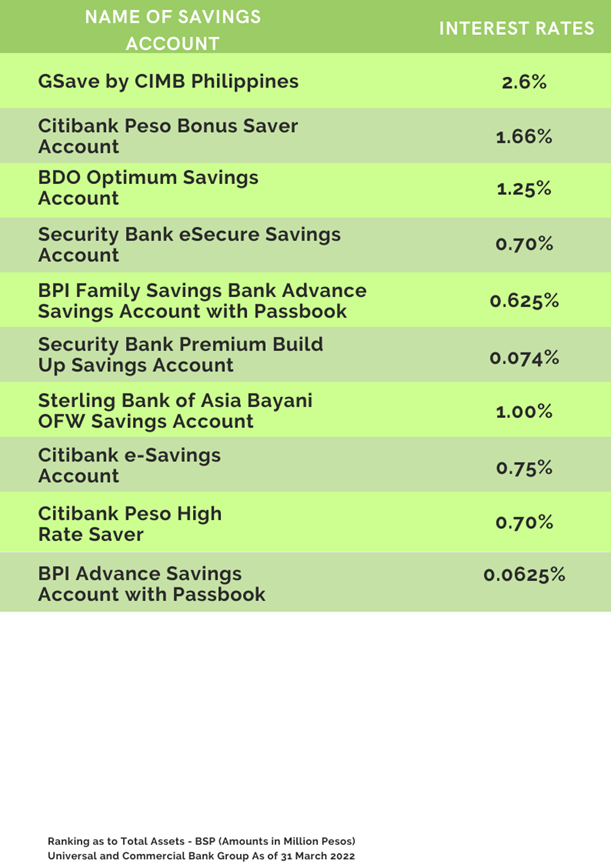 The top 10 high-yield savings accounts in the Philippines are shown below, with the most current interest rates listed first. Let's now contrast these accounts. Look at your pre-tax earnings after a year, five, and ten years.
[1]GSave by CIMB Philippines

Since its founding in 2018, CIMB Bank Philippines has developed into one of the nation's digital banks with the quickest rate of growth. Since then, more than 4 million consumers have been added. In addition, the bank asserts that it has won 51 international awards, making it the most honored entirely digital bank in the Philippines. In complement to these outstanding awards, the savings accounts offered by CIMB Bank Philippines pay substantial interest rates. 
GSave Account
Got a GCash account already? The GSave account, according to the bank, is the first savings account that users can open and manage directly from their GCash app. This set-up will make moving funds to and from your GCash wallet seamless and effortless. The GSave account also comes with a high-interest rate, making it a good choice if you want to grow your money. 
Interest rate:

2.60% per annum

Initial deposit:

Not required

Maintaining balance:

Not required / PHP 5,000 as the minimum average daily balance to support getting free life insurance.
Eligibility
Individuals aged 18 and above

Applicant must be a fully-verified GCash user

Applicant must be a Philippine citizen and non-US person and have at least one (1) valid government-issued ID.
Your GSave account will pay you interest of 2.60% p.a. without an initial deposit or minimum balance requirement. The table below shows the estimate for a GSave account with a Php5,000 initial deposit, and this is a stagnant amount means this Php5K is not increasing. For reference: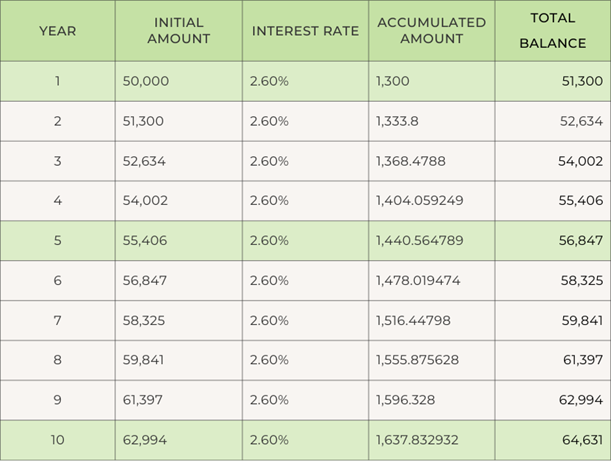 [2] Citibank Peso Bonus Saver Account

It only takes a minimum balance of P50,000 to get going. You can benefit from a high bonus interest rate by progressively raising your account balance by at least P20,000 monthly for 12 consecutive months. Earn up to 1.66% yearly gross—total annual interest on your increasing balance. Utilize bonus interest to grow your savings and reach your financial objectives more quickly. 
Initial deposit:

P50,000

Balance to earn interest:

P50,000

Rate:

0.60% to 1.66%
For a balance of P50,000 or more, the base interest rate is 0.60%. If your balance rises by P5,000 in the following months, you will receive a bonus of 0.08%, up to a maximum of 1.66%.
If there is no increase in balance, the interest rate returns to 0.60%; however, if you were able to increase P5,000 regularly each month for the previous six months and the amount is less than P4 million, you may benefit from earning interest of 1.08%. Additionally, you can receive the highest interest rate of 1.66% if your balance is P4 million or more.
[3] BDO Optimum Savings Account

BDO Unibank Inc. offers the Optimum Savings Account, which rewards depositors with increased interest rates when they make more extensive deposits. The account permits free withdrawals up to three times per month.
Interest:

1.25%

Initial deposit:

P30,000

Balance to earn interest:

P30,000
Considering that the deposit of P50,000 will earn 1.25% interest, here's what that would look like at the end of 10 years?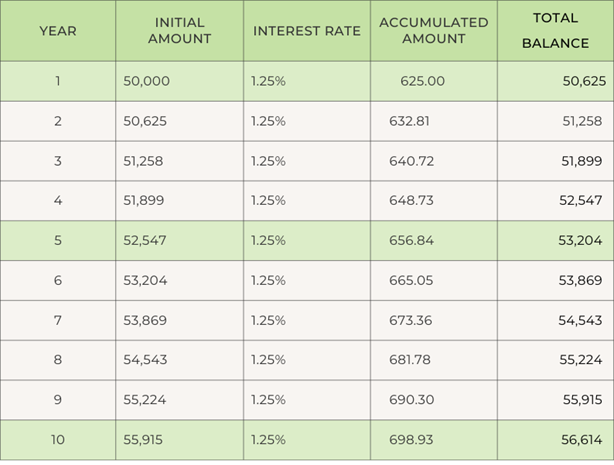 [4] Security Bank eSecure Savings Account

For current Peso Casa customers, eSecure Savings (eSS) is a better-earning savings account to help you get the most out of your money by giving you more effective interest rates to help your money grow faster. Through Security Bank Online, you may manage your accounts from anywhere. To track your progress toward each of your savings objectives, open up to 10 accounts.
Interest:

up to 0.70%

Initial deposit:

P500

Balance to earn interest:

P5,000
The account needs a P500 initial deposit, and Php5,000 has already begun to generate interest at a rate of 0.70%. However, you can only make one monthly withdrawal; otherwise, interest is reduced to 0.10%. The plan is to deposit Php100,000 if you wish to start saving a million pesos gradually. Your account makes 1.10% in this method.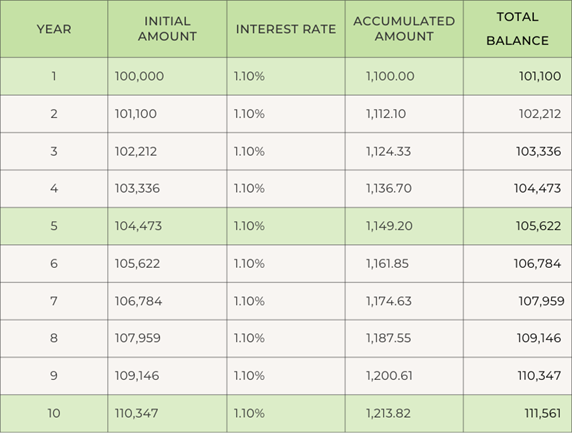 [5] BPI Family Savings Bank Advance Savings Account with Passbook

You can get quicker returns on deposits with the Bank of the Philippine Islands (BPI) Family Savings Bank's Advance Savings Account with Passbook. You can make a deposit and take advantage of the interest in advance. When the balance reaches one million pesos or more, the interest rate increases to 1.50%, making it more lucrative than a typical savings account.
Interest:

0.625%

Initial deposit:

P100,000

Balance to earn interest:

P100,000
The maintaining balance is P100,000. The account does not earn any interest if the balance falls below that. You might want to provide the P10,000 down payment. The BPI Family Savings Bank Advance Savings Account with Passbook projection over the next ten years is shown in the table below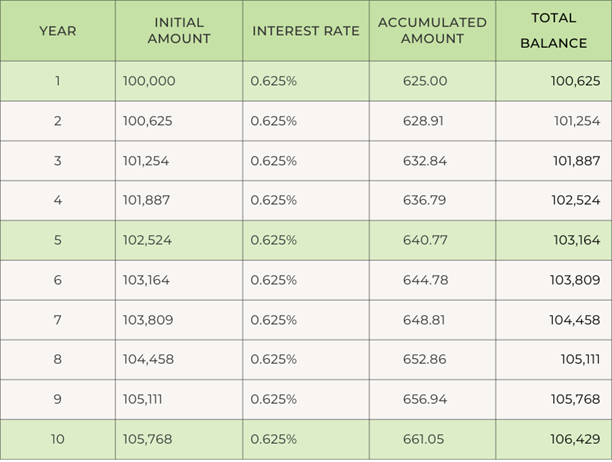 [6] Security Bank Premium Build Up Savings Account

Security Bank Corporation offers the Premium Build Up Savings Account for those who don't want to be locked in but still want to benefit from higher interest rates than typical savings accounts. The initial deposit is P50,000 with a 0.74% interest rate.
Interest:

0.74%

Initial deposit:

P50,000

Balance to earn interest:

P50,000
You are permitted three withdrawals each quarter, in any case. The initial deposit is only P50,000 this time, and the period of 10 years is the same as in the previous example. This account is for people who want to develop their money more quickly and are prepared to save long-term. As you can see below, your savings will increase over time.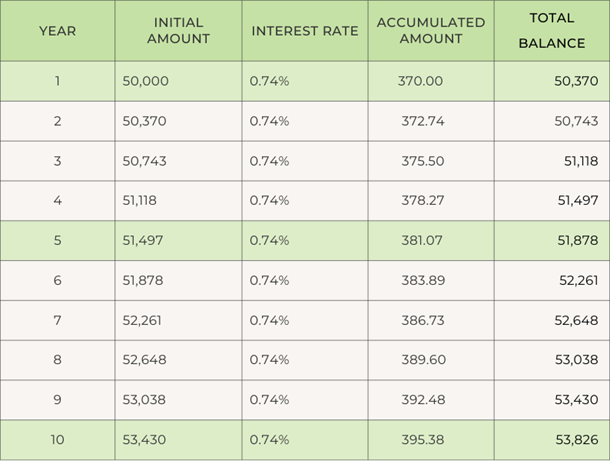 [7] Sterling Bank of Asia Bayani OFW Savings Account

Filipinos working overseas can open a Sterling Bank of Asia Bayani OFW Savings account. It has a low minimum initial deposit requirement, a high-interest rate, and an ATM card.
Interest:

1.00%

Initial deposit:

Not required

Balance to earn interest:

P2,000
The account is perfect for individuals who plan to send money abroad because fund transfers can be credited to the report. iRemit Global offices, wire transfers, and telegraphic transfers from foreign banks are all remittance options.  With Sterling Bank of Asia Bayani OFW Savings, you need to deposit any amount, say Php 100,000, to grow your money. The forecast of your deposit in ten years is shown in the table below.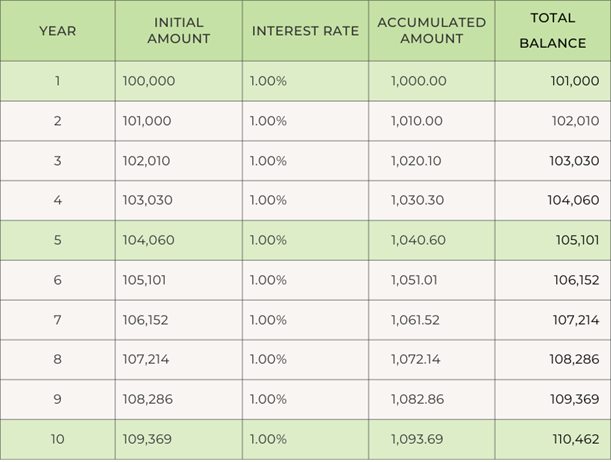 [8] Citibank e-Savings Account

You may take advantage of a high-interest rate with the Citibank e-Saving Account while conveniently managing your account online. Additionally, you get access to free and limitless financial transfers to other users' Citibank CASA accounts.
Interest:

0.70%

Initial deposit:

(not mentioned)

Balance to earn interest:

P100,000
Two withdrawals are free each month. A fee of P20 for non-over-the-counter and P30 for over-the-counter withdrawals will apply if there are more than three withdrawals. You can decide to put P100,000 in a Citibank e-Savings Account to receive interest, and then again after ten years seen in the table below.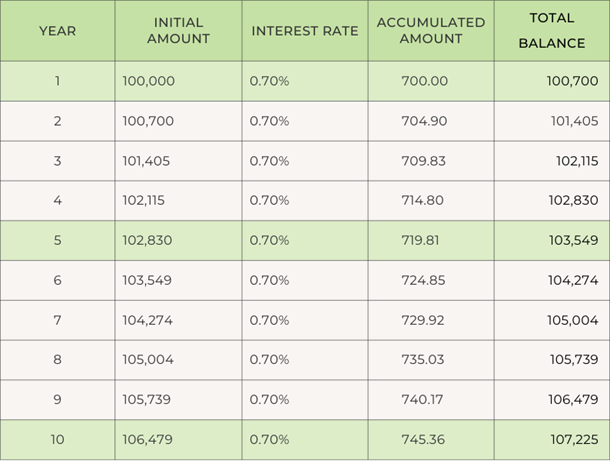 [10] Citibank Peso High Rate Saver
Citibank's Peso High Rate Saver Account offers the best interest rates on the market, ranging from 0.70% to 0.85%. The interest you will earn will increase directly to the account balance. There are no fixed terms to be concerned about, more than 13,000 ATMs worldwide allow you to check your balance, and you can manage your account on their internet platform.
Interest:

0.70%

Initial deposit:

(not mentioned)

Balance to earn interest:

P100,000
You may make up to two free withdrawals each month from your account. For non-over-the-counter withdrawals, a P20 fee applies, and for over-the-counter withdrawals, a P30 fee applies.
With Citibank's Peso High Rate Saver Account, we can predict how much your money will be worth after ten years. The initial deposit is P100,000 because a minimum amount is needed to generate interest. You can refer to the preceding table with the Citibank e-Savings Account since the sample projection is the same.
[10] BPI Advance Savings account with Passbook
Compared to a typical savings account, the BPI Advance Savings Account with Passbook offers a quick return on your investment and a higher interest rate. Through their online banking system, you may also benefit from smooth account administration and earn in advance for each deposit.
Interest

: 0.0625%%

Initial deposit:

P100,000

Balance to earn interest:

P100,000
The minimum maintenance balance is P100,000. If the balance is P1,000,000 or above, the interest rate will be 1.25 percent rather than the introductory rate of 0.7 percent. Therefore, you might need to make a P100,000 initial deposit to open a BPI Advance Savings Account with Passbook and become a millionaire.  Look over the forecast in the table below.
As you can see, it's evident that how much money you'll make in a year or ten years depends significantly on the interest rates that banks offer. If you don't have Php100K right now, don't worry. as an initial deposit. This comparison demonstrates how your money has grown using the same initial contribution amount over time. This is how we ensure that you would see the difference just by choosing your banking services and products.
Now that we have this long list of banks you yourself know that you'll earn interest just by depositing enough amount. There are still banks that is possible to add to this list. 
By the time you're still reading until here, I'm sure you now want to open a savings account if you still don't have one. 
How to open a savings account?
There are a few steps you can take into account. And this article tackles about how to open a savings account. 
Terminologies:
Financial inclusion – Financial inclusion means that individuals and businesses can access valuable and cost-effective financial products and services that suit their needs – transactions, payments, savings, credit, and insurance delivered responsibly and sustainably.
Dormancy Charge – A dormancy charge is a fee made to a cardholder's account by the credit card company when the card was inactive for a predetermined amount of time.
NBFIs – as Non-bank financial institutions are financial institutions that offer various banking services but do not have a banking license.
MUST-READ AND SHARE!
2023 Your Practical Wedding Guide
Your Ultimate Access to Kuwait Directories in this COVID-19 Crisis
Investments and Finance Ultimate Guide
OFW FINANCE – Money News Update that you need to read (Table of Contents)
A Devotional for having a Grateful Heart
Stock Investment A Beginner's Guide
How To Save Money Amidst Inflation
Philippines Best Banks with High-Yield Savings Return
Essentials Before Applying For a Credit Card
Credit Card Starter Guide for Beginners
If you like this article please share and love my page DIARYNIGRACIA PAGE Questions, suggestions send me at diarynigracia @ gmail (dot) com
You may also follow my Instagram account featuring microliterature #microlit. For more of my artworks, visit DIARYNIGRACIA INSTAGRAM