Last Updated on 10 months by DiaryNiGracia

5 Best Travel Credit Cards to Bring on Your Next Holiday Getaway
There's no way traveling is not part of a Filipino's bucket list. I mean, there are many countries to visit and cultures to experience. Who wouldn't want to have that, right? COVID may become a hindrance in traveling these past years, but a lot of countries have opened up for tourists again, and nothing beats the experience of traveling when you have your credit card.
Minutes to read: 6 minutes
Age Bracket: 21  – 40 years old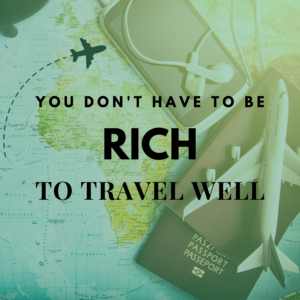 Traveling with your travel credit card heightens the journey to the sky. Imagine all the purchases by swiping your card abroad and bringing home all the goodies! Of course, you should also consider the extra cost of swiping from a foreign country. But this is where the perk of carrying your travel credit card with you starts. Numerous rewards from your purchases, saving money by paying less international fees, and benefits like travel insurance and airport lounge are some reasons why owning a travel card sounds fulfilling. If you still don't have yours, see the options I have listed to see which suits you!
What is a Travel Credit Card?
If having a credit card is not new for you, I'm sure you've heard of travel credit cards. I assume you don't know how it works, or you're looking forward to getting one, which is why you're reading this right now. If that's the case, I can help you with that.
Travel Credit Cards, like what it's called, are credit cards used for traveling. Purchasing items abroad might cost extra fees when using your regular credit card. But with a travel credit card, the foreign transaction fee will be waived. A lesser amount may be charged compared to a standard credit card, which varies from card to card. Similarly to rewards cards, travel credit cards earn currencies at different rates, which can be converted into rewards. It may be called "points" or "miles," depending on your card. Collecting these rewards can score you a free night in one of your favorite hotels or a free ticket on an airline! You can experience bounty benefits in having a travel credit card that can also leverage your spending habit. It can also give you an exclusive airport lounge with access to free meals, or a complimentary upgrade first-class seat. Sounds exciting, isn't it?
Types of Travel Credit Cards
Travel Credit Cards also come in different types depending on what service you want to earn more rewards. Choosing based on what you want or what suits you best is advisable.
1.     Airline Credit Cards
If you love traveling and are loyal to a specific airline, an airline credit card might be for you. When your reward points are connected to your chosen airline's loyalty program, they can quickly add up with more chances to earn points or miles until you make enough to use it to redeem a free plane ticket for your following travel goals. Aside from this, there are travel perks that you can experience, like early or priority boarding, complimentary seat upgrades, free checked bags, and more.
2.    General Travel Cards
Numerous general travel card offers in the market will give you flexibility in earning rewards. Using this type of credit card on your everyday expenses will allow you to earn points and purchases on specific categories such as dining and traveling will allow you to make more which you can use to redeem for flights, hotels, vacation packages, rental cars, and more. Other than converting it for certain services, you can transfer your points directly to your favorite hotel and airline for their loyalty program. Some cards offer perks such as zero foreign transaction fees and TSA pre-check global entry.
3.    Hotel Credit Cards
Using your hotel credit card to book rooms in a specific hotel allows you to accumulate an accelerated amount of points due to the hotel's loyalty program. Besides booking rooms, you can earn more when you use your credit card to purchase at participating hotel properties. The benefits of having one are complimentary breakfasts, hotel room upgrades, and access to special events. You can redeem all the rewards points earned for a hotel stay or room upgrade. Depending on your credit card, it may also come with a free night each year or automatic elite status in the hotel's reward program.
4.    Premium Travel Card
Premium Travel Cards are often referred to as a status symbol since they are only offered to those high-earning big spenders and are designed for frequent travelers to access more travel benefits. It offers a high annual fee but provides a vast range of exclusive benefits in return. It comes with a high credit limit and numerous difficult and expensive perks. Additionally, suppose you don't have time to book rooms for your holiday getaway. In that case, you can take advantage of the concierge service perk that provides personal assistance with shopping services, locating hard-to-find gifts, and even sending flowers or gifts on your behalf. I'm sure you'll get all your money's worth with this credit card.
What to look for when getting a Travel Credit Card?
Since there are a lot of travel credit card offers in the market, choosing might be difficult. When choosing a financial product, you must consider your lifestyle, personal goals, and spending habits. To help you choose the suitable card for you, I've narrowed down the benefits or features that the best travel card should have.
Annual Fee – annual fees are standard in a credit card, and it is essential to understand the credit card's yearly fee before applying for one. Some travel credit card charges a large amount for an annual fee but provides excellent services as an exchange, and some do not. Make sure you can comfortably afford its fee before considering applying.
Foreign Transaction Fee – Traveling abroad means spending your money on a different currency. Before traveling, check if the card charges a foreign transaction fee. If it doesn't, it will help you save money and avoid getting charged extra fees on your purchases.
Airport Lounge Access – waiting for your flight me put you in a dull state, but if your credit card allows you to access the Airport Lounge, this will be a nice perk to have as it lets you wait comfortably and relax while you wait for your flight.
Insurance – A standard benefit of a travel credit card is its insurance. It may sound like you don't need it, but trust me, you will. Plus, the idea of having one provides you peace of mind when traveling. Some of the insurances provided are travel insurance, trip cancellation or trip delay insurance, and baggage delayed or lost baggage insurance.
Earning potential – accumulating rewards or points varies from each card. A good credit card allows cardholders to earn points easily to redeem them for a service they need, such as a free ticket or a free night in a hotel. Look for the credit card's terms in earning reward points, it should allow a low amount of spend to earn points, and the earning potential should be unlimited. This way, you can maximize your earning potential.
Travel Perks – one of the reasons why one should get a travel credit card is its perks. The extra benefit when traveling is a massive addition to your travel experience. Priority boarding to make yourself comfortable before your flight or a welcome gift at your hotel to make yourself at home makes it more enjoyable.
Best Travel Credit Cards in the Philippines
Planning your itinerary and managing your finances for your holiday getaway might be energy-consuming. Going down to your finances to follow and hit every destination you want to visit on your list without spending too much may sound hard. But hey, it doesn't! One of the essentials when traveling is a good credit card. Maybe that's why you're here, right? Still haven't figured out which one to get?  I got you. I have listed down some of the best travel credit cards you can get in the Philippines that you must consider.
1.     Citi PremierMiles Card
If you want a credit card that will allow you to earn reward points as much as you wish, Citi PremierMiles got your back. From their free 30,000 miles welcome gift to their no-expiry miles feature to maximize your earning potential. Accumulated air miles can be redeemed for free flights and to book rooms worldwide. However, if you still have no plans to travel, you can use your earned reward points to redeem gifts or to pay off your annual fee.
Features and Benefits
Earn 1 PremierMile for every ₱30 spend
To redeem airline miles for future travels, 1.6 PremiumMile = 1 mile
You can transfer your miles on your chosen airlines
To redeem cash credits for your next purchase, 5 PremierMiles = ₱1
PremierMiles points have no expiry, so that you can use them anytime you want
VIP Lounge access to selected lounges nationwide and abroad with a free DragonPass Membership with two (2) complimentary visits per membership year
It comes with complimentary travel insurance that can cover up to ₱1 million when you charge your travel tickets to Citi PremierMiles
All your purchases that are charged on your card have a free 30-day Purchase Protection
Fees and Charges
A gross annual income of at least ₱360,000
Annual fee: ₱5,000 (Waived for the first year)
Interest Rate: 2%
Foreign Transaction Fee: up to 3.525%
To know more about the Citi PremierMiles Card, read more at Citi PremierMiles Card Offers – Citibank Philippines.
2.    PNB-PAL Mabuhay Miles World Mastercard
If you are a frequent flyer of Philippine Airlines, this one might be the best one for you! Earn Mabuhay Miles and enjoy exciting benefits and perks when flying with PAL. Receive 2,000 Mabuhay Miles as a welcome gift and earn an additional 10,000 Mabuhay Miles when you spend at PAL. Experience flying with style and World Assist Concierge Service with PNB-PAL Mabuhay Miles World Mastercard.
Features and Benefits
Earn mile points that you can redeem for a low rate of 1 point = 1 mile

₱30 = 1 point (TBR of ₱100M and above)
₱40 = 1 point (TBR of ₱50M – ₱99M)
₱50 = 1 point (TBR of ₱10M – ₱49M)
₱55 = 1 point (TBR of below ₱10M or none)
*TBR (Total Banking Relationship) = checking account + Savings Account + Time deposit
An exclusive year-round PAL Online discount
Priority check-in at PAL Business Class Counters in NAIA terminal 2
World Assist Concierge Service for both travel and medical
Airport lounge access with Mastercard Airport Experiences (MCAE)
Exclusive 5% discount on selected PAL International Flights when you book online
Free annual fee for life for PNB Supplementary Cards
Your choice of single or dual-currency billing
It comes with Free Purchase Protection Insurance that covers up to ₱250,000 annually.
It comes with Free Travel Insurance that covers up to ₱10 million when you charge your entire roundtrip land, air, or sea tickets to your credit card. Travel-related concerns such as delayed flights and lost luggage are covered.
It comes with Fraud Transaction Insurance that covers up to ₱250,000 per year for only ₱120 fee per year.
Fees and Charges
A gross annual income of at least ₱2,400,000
Annual fee: ₱6,000
Interest Rate: 2%
Foreign Transaction Fee: 2.50%
To know more about PNB-PAL Mabuhay Miles World Mastercard, visit PNB-PAL Mabuhay Miles World Mastercard – Philippine National Bank.
3.    Metrobank Travel Platinum Visa
Traveling frequently allows you to earn rewards, and Metrobank Travel Platinum Visa makes it easier for you with their lowest spend-to-mile! This is undeniably one of the must-have credit cards in the Philippines. Premium customer service and unlimited lounge access make it more appealing to have
Features and Benefits
Earn a 1-mile point for every ₱17 spent on airlines, hotel, and foreign currency transaction
Earn a 1-mile point for every ₱50 spent on other categories
Complimentary airport lounge access to over 950 airlines worldwide
Free supplementary card with annual fees waived
24-hour VIP Concierge service
Fees and Charges
Gross annual income requirement of at least ₱700,000
Annual fee: ₱5,000 (waived for the first year)
Interest Rate: 2%
Foreign Transaction fee: 2.5%
To read more about Metrobank Travel Platinum Card, you can visit Travel Platinum Credit Card | Metrobank.
4.    BPI Visa Signature Card
Planning to go on a shopping spree once you reach abroad? BPI Visa Signature Card got you. Their lowest foreign currency transaction fee makes it a perfect help for you to save on your foreign purchases. Aside from this, you will have access to exclusive privileges and travel perks that are specially curated just for you.
Features and Benefits
Earn 1 reward point for every ₱20 spent that you can use to redeem miles, shopping credits, or gift certificates from premium merchants.
An exclusive 50% off deals on restaurants, hotels, resorts, fitness studios, and wellness centers all year round
Exclusive privileges from Ayala
Global services with Visa's 24/7 Worldwide Concierge, Airport Meet and Greet Immigration Services, Airport Transfer program, and Luxury Hotel Collection.
Complimentary Travel Insurance when you purchase your travel fare using your card.
            Fees and Charges
Gross Annual Income Requirement of at least ₱960,000
Annual Fee: ₱5,500 (Waived for the first year)
Interest Rate: 1.82%
Foreign Transaction Fee: 0.85% for the converted amount plus 1% for the assessment fee
If you want to know more about BPI Visa Signature Card, read more at BPI Visa Signature Card.
5.    UnionBank Miles+ Platinum Visa Card
Unionbank offers different travel credit cards if you are a loyal Cebu Pacific Flier. But what we recommend the most is the UnionBank Miles+ Platinum Visa Card. Great for traveling with their fully loaded travel program and earn points you can use to pay for your next trip or waive your credit card fees.
Features and Benefits
Earn 1 point from every ₱25 spent on your everyday purchase
Earn 1.5 points from every ₱25 spent on any travel-related purchases.
Unlimited pre-departure Airport lounge access
Complimentary Travel Insurance up to ₱10 million when you charge your airline tickets to your card
Credit Life Insurance for you and your family that can cover up to ₱400,000 of your outstanding balance
24/7 Customer Service whenever you need assistance
Exclusive discounts, perks, and freebies in restaurants, shopping, leisure, and service outlets nationwide
20% discount on lounge pass for your companions
Fees and Charges
Gross Annual Income of at least ₱600,000
Annual Fee: ₱3,000
Interest Rate: 2%
Foreign Transaction Fee: 2%
To read more about UnionBank Miles+ Platinum Visa Card, visit Credit Cards | UnionBank of the Philippines.
MUST-READ AND SHARE!
2023 Your Practical Wedding Guide
Your Ultimate Access to Kuwait Directories in this COVID-19 Crisis
Investments and Finance Ultimate Guide
OFW FINANCE – Money News Update that you need to read (Table of Contents)
A Devotional for having a Grateful Heart
Stock Investment A Beginner's Guide
How To Save Money Amidst Inflation
Philippines Best Banks with High-Yield Savings Return
Essentials Before Applying For a Credit Card
If you like this article please share and love my page DIARYNIGRACIA PAGE Questions, suggestions send me at diarynigracia @ gmail (dot) com
You may also follow my Instagram account featuring microliterature #microlit. For more of my artworks, visit DIARYNIGRACIA INSTAGRAM