Last Updated on 10 months by DiaryNiGracia
The pandemic has left most Filipinos in a challenging situation since it struck the country. A lot of business has closed, parents lost their work, and even caused students to stop studying due to financial problems. Every kid deserves to go to school to learn things that will prepare them for the future. But, how can they have the chance to explore the world through books if being financially unstable traps them in their home? Chances are, these students who want to pursue their studies must work hard just to afford the tuition they need, yet it may still not be enough.
Mins to Read: 12 minutes
Alternatives are given to students who want to continue studying, such as scholarships and grants. However, these options do not apply to everyone since it requires hefty academic requirements and high grades to maintain, and not everyone can satisfy these. Luckily, student loans are now offered in the Philippines, which are much more accessible and easier for everyone to apply for. If you haven't heard of this financial assistance before, continue reading to learn more. 
Where can I apply for a student loan?
What is a Student Loan?
According to Unesco, 36% of Filipino families depend on loans to provide education to their children. Given the current situation in the country, depending on loans to provide needs and daily necessities has become common in every family. Loans became a saving grace for every Filipino in need, especially students desperate for an education. We are even 6% higher than other poorer countries such as Uganda, Haiti, and Kenya.
Since student loans are now accessible in the country, and students are now eyeing acquiring one, the number of educational assistance has risen, helping every Filipino student hungry to learn. A study made in 2018 showed that the total value of educational aid granted by the Development Bank of the Philippines (DBP) rose from ₱476.7 million (2009) to ₱4.071 billion (2018). Imagine how much it would be by now that years have passed and the number of students has also risen.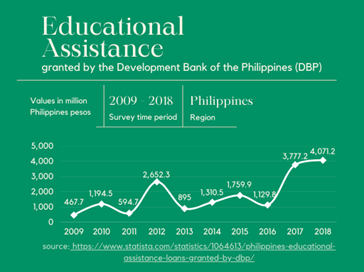 A student loan is a type of financial assistance that funds students to complete their education. A student loan makes it possible to repay the debt while you're studying or after you graduate by paying it monthly. Student loans usually have lower interest rates than other types of loans. However, they also have a more extended repayment period, making it difficult to pay off quickly. Many students take out student loans to cover their education costs, including tuition, books, and living expenses. The amount offered vary based on the borrower's financial needs, academic history, and school. Students who have excellent academic records and financial needs may be eligible to receive substantial student loan amounts. 
Student loans are more common in western countries, making the United Kingdom and the United States the countries with the most student debt. According to Student Loan Hero, an average of $54,000 student loan debt per student in England and $28,400 in the U.S. at graduation. Student Loans are not standard in the Philippines since students usually qualify for scholarships and grants. However, student loans started to glimpse the spotlight when government organizations and private institutions began offering affordable student loan programs to students in need.
How do Student Loans work?
Since student loans are like any other, we can get them depending on what we need. Loaning for an amount that will finance your college or postgraduate education is a situation why you need it. Borrowing an amount you need will be the principal amount you must pay in the future through installment plans. This principal amount will incur an interest rate that will add up to the amount you have to pay together with other fees such as services and late fees. Usually, it will require you to pay monthly for a year, depending on your term. 
Some student loans offer no interests when paid before the semester ends, and some also offer to be paid within ten years. It is best to research student loans that will suit you, depending on the amount they offer, the interest rate, and the term of how long you have to pay it.
To see how these student loans are repaid, suppose your tuition is ₱50,000 per sem, and you applied for a loan of the same amount of your tuition with an annual interest rate of 6% payable for 12 months. To calculate the interest on your student loan, divide your interest rate by the number of payments you'll make to have your monthly interest rate. Thus, 6% is equal to 0.06; divide it by 12 (monthly payments), and you'll get 0.005 as your monthly interest rate. 
Multiply your monthly interest rate by your loan balance to see how much you'll pay interest for that month. Since you loaned an amount of ₱50,000, multiplied by 0.005, you'll be paying ₱250 as your first month of interest. If your lender told you to pay a fixed monthly payment of ₱4,303, subtract your interest from that number to see how much you paid on your principal amount. Thus, 4,303 – 250 = 4,053. Therefore, you paid an amount of ₱4,053 towards your principal amount. Subtracting that amount to your ₱50,000 balance, you have ₱45,947 left on your balance. 
Continuing the same process for each subsequent month, you'll get your loan repayment schedule, as shown below.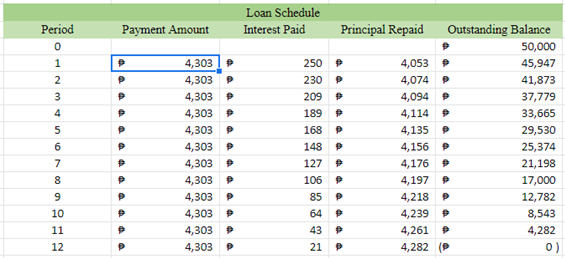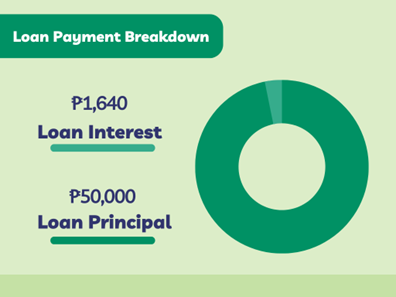 Where can I apply for a student loan?
Before applying for a student loan, you must decide whether it's your best financing choice. There are many benefits to taking out a student loan, but you need to ensure the loan is worth the costs. Before taking out a student loan, you must consider the following: Students usually have the option to apply for a student loan while in school or after graduating. If you're a current student, you may want to consider applying for a student loan as soon as possible. However, if you plan to defer your student loan, you may be able to apply after graduation. The sooner you start the loan application process, the sooner you can get funds in your account.
Applying for a student loan also comes with a lot of consideration before deciding where to apply. But, have you thought of where to apply, or do you have an idea how to apply? If your answer is no, I have listed down some of the institutions that offer student loans. May it be provided by the government or offered by Non-Government institutions.
Student Loans Offered by the Philippine Government
1. CHED Unified Financial Assistance System for Tertiary Education (UniFast)
The Unified Financial Assistance System for Tertiary Education, also known as UniFast, was signed into law by President Benigno Aquino III last October 15, 2015. The bill's purpose is to provide financial assistance to Tertiary Students in the Philippines that are in need. 
The goal of Unifast is to provide speedy financial aid and government scholarship to all qualified beneficiaries and disadvantaged students with no form of connections or support from politicians that offer educational assistance within their respective places.
The student loan offered by the CHED UniFast consists of short-term and Long-term Loans. Regardless of their economic status, they are provided to students who are short on cash and want to pursue studying. Once the loan is received, the student, or the guardian, is expected to pay the loan once they are fully employed.
Categories covered by the UniFast Law:
Tertiary Education –

level of education after high school or secondary education. This includes Technical-Vocational Education and Training (TVET), post-secondary non-degree diploma, and higher education such as baccalaureate degree (College) and graduate education (master's, Ph.D., etc.)
Special Purpose Education Assistance –

refers to research and scientific studies while the student is in college or in master's/doctoral level, which funds assistance for writing and publishing the book, manuscripts, theses, etc.
Who are qualified for Ched UniFAST?
The student must be a Filipino Citizen.

An undergraduate or graduate student (master's or doctoral) enrolling in any State University College, Local University Colleges, and Private Higher Education Institutions.

A student enrolling or continuing Technical Vocational Education and Training (TVET) with at least ten years of primary education must pass the TESDA screening, etc.

Graduates who are reviewing for their licensure, or post-graduates, shouldn't have availed of any loan program during their undergraduate studies unless the previous loan is already fully paid.

Should pursue a program accredited by CHED
Ched Unifast Student Loan
A student is only allowed to loan a maximum of ₱60,000 per academic year

If the loan is paid within the loan term, no interest will be charged

If the loan is not paid within the loan term, the loan will incur a 6% interest rate per annum or the prevailing interest rate in the Philippine Dealing System for a year, whichever is lower, from the time the student availed the loan.
2. Landbank Interim Students' Loan for Tuitions towards Upliftment of Education for the Development of the Youth (I-STUDY)
Landbank's I-STUDY program was introduced in September 2020 that offers loans to students who need funds to purchase electronic gadgets for online classes during the pandemic. Since Landbank recognizes the struggle of keeping up with the mode of learning during the new normal and awaits the resumption of face-to-face classes, they offered a program for students who are short of cash but have to purchase learning equipment to participate in the online class.
Parents and guardians can borrow an amount from Landbank to help everyone to access quality education amidst the pandemic and finish their studies despite the challenges given by COVID-19. Eligible benefactors can avail of short-term loans for students under pre-school, primary, or secondary levels. A term loan is given when the student is under the tertiary level.
Who are qualified for Landbank I-STUDY?
The student should be a Filipino Citizen

Should not be over 50 years old 

A non-scholar student of CHED or DEPED school or TESDA

The student should be of good moral character

Shouldn't be a beneficiary of the Universal Access for Quality Tertiary Education Act of 2017 (R.A. 10931) or any scholarship that offers free tuition fees
Landbank I-STUDY Student Loan
A beneficiary is allowed to loan a maximum loan equivalent to one school year or two semesters, or ₱150,000 per student but not more than ₱300,000 per borrower.

If the loan is a short-term loan, the loan is payable within one year via a 360-day promissory note.

If the loan is a term loan, the loan is payable up to a maximum of 3 years, inclusive of 1 year grace period on the principal amount. 

The loan will incur a 5% p.a. Fixed for the entire term of the loan

If the beneficiary failed to pay the loan, a 24% per annum penalty interest would be applied

Fees that the beneficiary should pay as well are the loan processing fee and the documentary stamp tax.
If you are an interested applicant for Landbank I-STUDY, you can visit I-STUDY to know more about their application and requirements.
3. GSIS Educational Loan
Following the labor day speech of President Benigno Aquino III last 2012, the GSIS Educational Assistance Program was launched together with SSS, which aims to provide financial aid to students for their educational expenses. Additionally, during President Duterte's term, he called for a response for academic support during the pandemic, which opened the offers of GSIS' "study now, pay later program." for college education.
Other than the loan itself, beneficiaries of the loan will also benefit from the insurance that comes with it. "The loan has an insurance cover to protect the interest of the borrowers and their student beneficiaries. Thus it will be deemed fully paid in case the member or the student dies or becomes permanently and totally disabled," Macasaet said. However, only active members of GSIS with at least 15 years of service are qualified to avail this loan.
Who are qualified for GSIS Educational Loan
The educational loan offered by the GSIS is only intended for children or relatives currently studying at the tertiary level of an active member of GSIS. This being said, the member's qualifications should also be observed and considered before applying for a loan.
Qualification of the GSIS Member
An active member of GSIS should have at least 15 years of service

Should have paid the latest three (3) monthly premium contributions for both personal and government share

Should not be on leave of absence without pay

Should have no past due GSIS loan/s

Should have no pending administrative or criminal case, or agency status should not be "suspended."

Has met the net take-home pay requirement 
Qualification of the Student Beneficiary
The student must be a Filipino Citizen

Should be related to the GSIS Member borrower up to the 3rd degree of consanguinity or affinity

Should be enrolled and taking an undergraduate course with a maximum of 5 years study period

Must agree to act as the co-maker on loan. Once the student beneficiary reaches legal age, it binds him/her to the loan's terms and conditions.
GSIS Educational Loan
The student beneficiary is allowed to loan a maximum amount of ₱500,000 for a five-year study period course with ₱100,000 loan amount each school year.

The loan has a ten-year term with a maximum grace period of five years, meaning the repayment period should only start in the loan's sixth year.

The loan will incur an 8% interest rate per annum.
To read more about the application requirements and process, visit GFAL Education Loan for more information.
4. SSS Educational Assistance Loan Program (EALP)
As mentioned above, SSS was launched with GSIS last 2012 to help member borrowers cover educational expenses for their undergraduate/college or vocational and technical course beneficiaries. Since the new normal requires students to provide additional costs for online gadgets to attend online classes, this challenging setup became a struggle for every SSS member and its beneficiaries to pursue and finish their studies.
The SSS EALP's loan budget is set for only a limited number of slots to be accommodated. SSS members are given priority to the said program. Interested applicants of the SSS Educational Loan that are not members of SSS can still try to apply for the program. However, they have to wait for beneficiaries to graduate and for the payment of the Education loan to start for slots to open up or be freed up.
Who are qualified for SSS EALP?
SSS EALP covers beneficiaries under SSS members. Similar to GSIS Educational Loan, SSS members have qualifications to be considered as well before applying for the educational loan for their beneficiaries.
Membership Qualifications
Should have a monthly salary, not above ₱25,000.

Should have a last SSS monthly salary credit of not more than ₱15,000

Should have paid at least 12 monthly contributions

Should have paid the monthly contributions for at least one of the past three months

Not delinquent in their outstanding SSS housing or salary loan
EALP Beneficiaries 
The SSS member-borrower

The sibling of the member-borrower

If the member-borrower is single or unmarried, they are only allowed to apply for one beneficiary

If the member-borrower is married, they are allowed to apply for two beneficiaries. You can apply for two beneficiaries if the spouse is also a member. This means you can apply for a total of 4 beneficiaries. 

The legal spouse and children of the member-borrower
SSS EALP
The maximum amount of loan on every beneficiary varies. If they're taking a degree course, the beneficiary can loan a maximum amount of ₱20,000 per term. If they're taking a vocational or technical course, a maximum amount of ₱ 10,000 per term is allowed.

An annual interest rate of 6% will be added to half of your loan amount.

Loan payment installments will only start 18 months after the date of the release of the loan check.

A 5-year term is given for college students, while a 3-year term is given for vocational students.
For more information about SSS Educational Assistance Loan Program (EALP), visit How to Apply for SSS Educational Loan for more info.
Student Loans offered by Private Institutions and Non-Government Organizations
1. Bukas Tuition Installment Plan
Bukas is a young financing company that serves as third-party educational assistance to students and parents. To make quality education more accessible and affordable, Bukas offers affordable installment plans to college students for up to 100% of their tuition fees. Giving you an alternative and easier way to pay for your tuition.
Providing flexible installment plans is their way to build a better tomorrow for the youth, for everyone to continue and focus on achieving their dreams. Bukas partnered with some schools to quickly provide and offer services to every student in need. Students can also apply for their next term even if they have an existing installment plan.
Who are qualified for Bukas?
The student should be a Filipino citizen

Must be at least 18 years old

The student should be enrolled as an undergraduate /  post-graduate student in one of Bukas partner schools.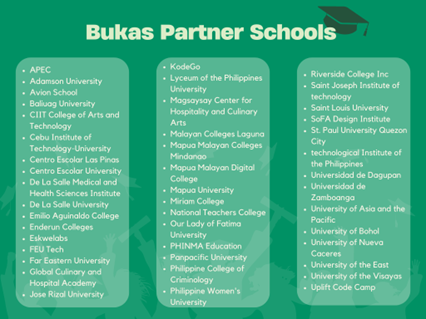 Bukas Tuition Installment Plan Offer
Students can loan up to 100% of their tuition

The loan is payable in 12 monthly installments

A monthly interest flat rate of 1.5% is added to the loan

A fee of 3% is also added as a one-time service fee.
To know more about Bukas Tuition Installment plan, visit bukas.ph for more information about their application and requirements.
2. InvestEd Student Loan
InvestEd is a financial platform that gives every college student everything they need to succeed and achieve their dreams. Assistance such as money for tuition fees and allowance, skills coaching, and even emotional support! Higher education is possible for every student who aims high, and with InvestEd's help, different individuals and institutions invest in the dreams of every Filipino youth.
An amount of more than  ₱100 million is raised by InvestEd thanks to the funding and support of investors, lenders, and donors. They believe that there should be no barrier to success, where every young dreamer and achiever needs help for the journey that they have to take. To guide the youth, 3 Cs are provided: Capital for education, skills Coaching, and a supportive Community.
Who are qualified for InvestEd Student Loan?
The student must be a Filipino Citizen or resident

Must be at least 18 years old

Should be in the last three years of college

Must be enrolled in any university in the country
InvestEd Student Loan Offer
Every student can get a loan from as low as ₱10,000 up to a maximum amount of ₱75,000. This is depending on the student's financial need and year in school.

The loan will incur a monthly interest rate of 2.1% – 2.4%

Monthly payments are affordable for as low as ₱800.

Students are allowed to pay their loans after they graduate. Additionally, repayment plans are also given and are open for adjustments based on the student's financial situation to assure students will be able to repay their loans.
If you are an interested applicant of InvestEd, you can visit invested.ph to read more about their application process.
Is a student loan worth it?
Understanding that student loans are a type of debt you need to repay is essential. While student loans have low-interest rates, they are generally hard to pay if you and your family don't earn much to afford monthly payments. If you delay repaying your student loan or miss a payment, your interest rate could increase. A student loan is a smart choice if it's the only way to earn your degree. However, if you can find other ways to finance your education, such as scholarships and grants, you may consider those options first. A student loan is a good choice if you need funding immediately. Many loans are awarded on a first-come, first-served basis, which means the sooner you apply, the higher your chances of receiving the funding you need.
Student loans are a viable option if you need to finance your education. However, you must do your research before applying for a loan. Before signing any contracts, you should know your repayment options and the interest rate on your loan. If you need help finding ways to finance your education, speak with staff members at your school's financial aid office. Make sure to apply for loans as soon as possible and keep track of your payments.

SOME GOOD READS!
Investments and Finance Ultimate Guide
OFW FINANCE – Money News Update that you need to read (Table of Contents)
Your Ultimate Access to Kuwait Directories in this COVID-19 Crisis
2023 Your Practical Wedding Guide
How To Save Money Amidst Inflation
Stock Investment A Beginner's Guide
Dividend Investing for Beginners
Invest Early – The Younger, The Better