Put your money to work today, so you have more money tomorrow when you invest in real estate. Your investment return must be sufficient to meet your risk-taking costs and tax obligations. Other expenses associated with real estate ownership include utilities, upkeep, and insurance. Real estate investing may be pretty easy as soon as you comprehend the fundamentals of investment, economics, and risk. To purchase even more properties, you buy houses, stay out of debt, and make money from rent.
However, remember that "simple" doesn't necessarily equate to "easy," and the results of a mistake might range from minor annoyances to catastrophic failures.
Mins to Read: 13  minutes
Age: 18-60 years old
The following list of general information on real estate investment in the Philippines is provided in this article:
What is Real Estate?
It's crucial to remember the variations in the meanings of significant concepts because information on real estate property investing frequently uses technical jargon. First considerations are the distinctions between land, real property, and real estate.
Land
Land explicitly refers to the surface of the earth and the upper atmosphere. Natural resources found on land include water, flora, trees, and minerals. Additionally, "indestructibility, immobility, and the geographical distinctiveness between each parcel of land" are some of the land's features.
Real Property
The term "real property" refers specifically to a parcel of land and "any additions that are permanently attached to the land," including the "rights inherent to their ownership and usage." Additionally, the owner of a specific real property has "all of the rights of ownership," including the "right to lease, enjoy, possess, and sell the land in the discussion."
Real Estate
Real estate is land with any type of permanent construction or improvement, including manufactured and natural features like houses, lots for sale, and structures. As a result, real estate is called a "form of real property," and improvements are alterations or additions to the land that increase its worth. Improvements can include things like built-in homes, roads, or sewage systems.
The various primary types of real estate include the following:
1.     Special Purpose
Examples are "schools, parks, libraries, cemeteries, places of worship, etc." These are public properties that locals use.
2.     Land
These expressly relate to undeveloped land and property, including "agricultural lands such as farms, ranches, etc.".
3.     Industrial Real Estate
Property used for "storage, distribution, production and manufacture, and the like" is referred to in these.
4.     Commercial Real Estate
These refer to real estate used for commercial and business purposes. "Restaurants, malls, offices, gas stations, grocery stores, theaters, and the like" are a few examples.
5.     Residential Real Estate
In these, "duplexes, multifamily residences, condos, etc." are properties that are primarily used for residential reasons.
Why Invest in Real Estate?
The many advantages of such investments make allocating resources to real estate investment Philippines a great choice. Consistent cash flow, passive income, using leverage to buy more properties to increase advantages, and portfolio diversification of your real estate holdings are some benefits. Real estate investment trusts (REITs), further defined in the blog's last section, provide "means to be able to participate in real estate without owning, financing, or operating properties of your own."
To be more precise, the advantages of real estate investing include the following:
1.     The payment arrangements are now more adaptable.
Regarding purchasing real estate assets, the initial payment arrangements for real estate investments were limited to down payments. Real estate developers are increasingly providing a variety of payment options in response to the necessity to react to the changes brought on by the pandemic. This indicates that real estate investors can access convenient online payment methods.
2.     Over time, appreciation occurs (value growth).
Its value immediately declines when you buy something, like an electronic item or a car. For real estate, it is the exact reverse. Real estate property's worth rises over time once you own it.
This is primarily due to the limited amount of land available, and subsequent improvements to the land will only raise the value of the real estate property (i.e., appreciation). Real estate investors can also make money by selling the actual property or engaging in "property-dependent economic activity."
3.     You have complete control over your investments.
When you buy real estate property, you become the sole owner of the material possessions that make up the real estate property. You can take various actions to optimize your influence over the property, including "using it as storage, selling it for more money, or turning it into passive revenue."
4.     Safe investments help build wealth and equity.
Real estate investing does not take much business knowledge; anyone can profit from such investments, especially with the advice and support of reliable real estate investment Philippines companies. Building equity and wealth also depends on paying off real estate mortgages, which is covered in a later portion of this blog.
How to Invest in Real Estate?
There are primarily direct and indirect ways to invest in real estate. Most direct investments involve buying land, a house, and rental property or properties. On the other hand, "pooled real estate investments" or REITs are used to make indirect real estate investments.
Utilizing Real Estate Investment Trusts (REITs) to Make Indirect Investments
The term "business that holds a portfolio of income-producing real estate" is known as a "REIT," or real estate investment trust. There are various REITs. "private REITs, public non-traded REITs, and publicly -traded REITs," categorized "depending on how their shares are acquired and sold." The REIT categories include "mortgage REITs, equity REITs, and hybrid REITs."
Generate Profit Through Real Estate
When most people think about how real estate investors make money, they typically picture a landlord going door to door to collect rent. Rent is one way an investor can generate income, but you should also be aware of the other four significant wealth drivers.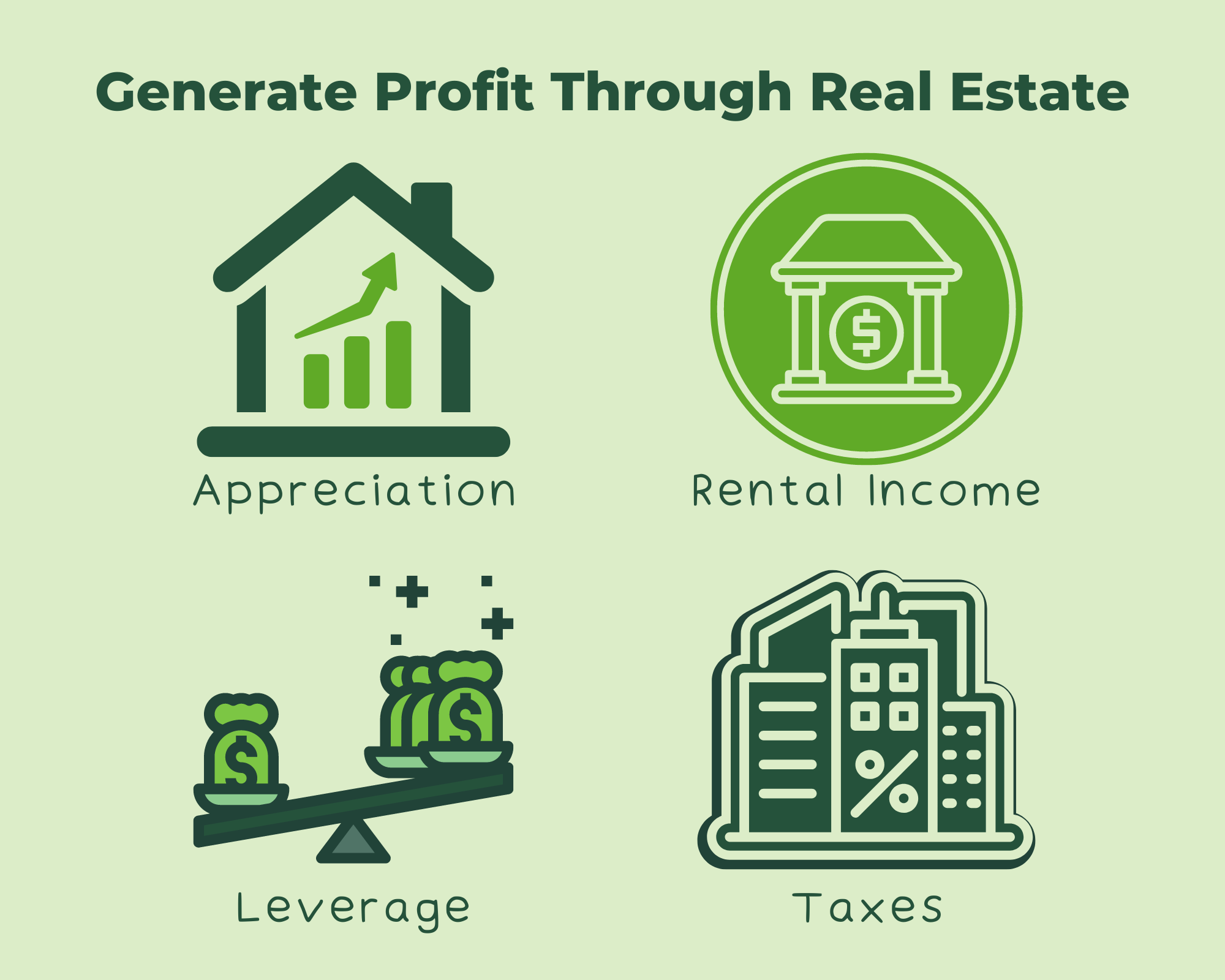 1.     Appreciation
You purchase an item that appreciates and sell it for a profit. A typical purchase and sell action. Not every property will increase in value; this is one of the hazards associated with real estate (as with any financial investment).
A buy-and-hold approach or a buy-low-develop/renovate-sell-high plan can benefit an investor. The concept of collectibles is similar to the idea of buying low and selling high. Let's say you purchase a limited-edition Batman toy. The product adds five times as much value in ten years, due to increased demand.
A similar approach might be successful when buying real estate if you could find a prized home. The second strategy entails purchasing a plot of land or other property, developing (or renovating) it, and then selling it at what is thought to be its higher value (flipping).
2.     Rental Income
One of the primary factors driving the rising demand for condominium and apartment rentals in recent years is the increase in the number of middle-class families who want the conveniences and benefits of living in the metro.
Profiting from this expanding trend, investors increased their purchases of these residential units for the sole goal of generating rental income.
3.     Leverage
In most cases, you may buy a property with a 20% down payment, and the balance of the money will be sent to you by the bank. You can currently borrow money from the bank for 4% and then buy deals with an 8% cap rate.
This means you can generate positive cash flow from the money you borrow. This does not consider how much the home you buy will appreciate. This increases the returns on the funds you borrow and makes leveraging to grow your portfolio quite enticing.
4.     Taxes
Taxes are expensive. The battle begins in mind rather than the money, especially when you need to be knowledgeable about legislation. Taxes can be a death sentence if you don't know the rules and regulations. The proverbial saying goes: "Death and taxes are the only certainties in this world."
Local governments have the power to combine resources that can aid in public spending under the Local Government Code or Republic Act 7160. Real property taxes are one of the mentioned local revenue streams.
Owners of real estate, whether residential or commercial, are liable for paying these fees. You must pay real property taxes if your name appears on the titles and certificates of ownership.
Example:
Let's say you paid Php 1,500,000 for a house and lot in Quezon City. A building on the residential property is worth Php 500,000. The land is worth Php 1,000,000.
Formula:
Real property tax = tax rate x assessed value of the property
Assessed value of the property = fair market value of the property x assessment level
Substituting:
Assessed value of land: 1,000,000 (value of land) x 20% (assessment level) = Php 200,000
Assessed value of building: 500,000 (value of building) x 40% (assessment level) = Php 200,000
Total assessed value of the property: 200,000 (assessed value of land) + 200,000 (assessed value of building) = Php 400,000
You can now multiply an assessed value by the two percent real property tax rate in Metro Manila. It will be expressed as: Php 400,000 x 2% = Php 8,000. You should pay a total of Php 8,000.
Your local government unit's Treasurer's Office Land Tax Division is where you should make your tax payment. There are online payment options accessible in some locations. To avoid visiting the office, ask your LGU if they use one of these.
Taxes are unavoidably taxing. But if you're unfamiliar with it, it might cause extra stress regarding your finances and general health. It might ruin your enjoyment of your brand-new dream home or real estate investment.
Spend some time learning about it. It will undoubtedly relieve you of your problems as a property owner.
Risks of Real Estate Investment
These real estate investing dangers apply to everyone, regardless of age, personal circumstances, or present financial condition, so you must be vigilant to prevent getting into a precarious financial situation.
1.     Market
The housing market is very volatile. Although there are predictions about the market's future, nothing is definite. Market circumstances are influenced by various variables, including governmental policy changes, unanticipated domestic or foreign events, and economic forces of supply and demand.
The pandemic is a recent example that significantly altered the real estate market. Property investments in 2020 were delayed to nonexistent due to national lockdowns. As an investor, you should always keep up with and comprehend market economic trends. Doing this lets you decide when to invest and be ready for any downturns.
2.     Structural
Not all real estate investments are perfect. There may occasionally be structural issues, such as foundation damage or mold, undiscovered. You may incur additional costs due to handling unforeseen maintenance and repairs.
Purchase only from reputable developers with a fantastic portfolio of properties to reduce risk. As an alternative, you might hire experts to appraise the property.
3.     Location
As a prospective real estate investor, you've undoubtedly heard the adage "real estate is about location, location, location, location " at least once. Location is indeed the main draw of real estate. But there is a risk involved as well.
Real estate depends heavily on location. Therefore you must carefully evaluate if the region is a wise investment. Find out the town or city's gentrification status, the crime rates, and if the area is urban or suburban—the better, the more local knowledge you possess.
For instance, you are buying a condo in Cebu, one of the Philippines' outsourcing hotspots, which may be a wise investment given the country's ongoing economic expansion, creating more jobs and increasing demand for real estate.
4.     Liquidity
Real estate investments are less liquid than other assets like stocks or gold. It means you won't be able to quickly sell your property if you find yourself in a scenario where you need money immediately.
The best long-term gains come from real estate investments. If you don't have a long-term investment plan and you need money, you might have to sell the property for pennies on the dollar. You might apply for a home equity loan to lessen this risk.
5.     Cash Flow
One of the most frequent concerns for property investors is negative cash flow. You risk losing money if you don't conduct your real estate market study and analysis. You have negative cash flow when your property loan payments, taxes, and other related costs outweigh your rental income. It would be beneficial to estimate potential expenses and rental revenue before purchasing the property to reduce this risk.
6.     Tenants
The possibility of troublesome renters who don't pay their rent on time or at all exists when renting out real estate. Not all tenants who apply for the space should be accepted; unsatisfactory tenants might waste your time and money, which is worse than having no tenants. Therefore, you must conduct a thorough screening process with your applicants to guarantee that these circumstances don't arise.
7.     Vacancies
High vacancy rates run the same risk as problematic tenants. A difficulty arises when there are no tenants for an extended period because you cannot meet your financial responsibilities without rental money. Offering reasonable rental prices, promoting your house on social media, or selling the property with a reliable real estate professional are all ways to reduce this risk.
8.     Property Depreciation
Property depreciation, the antithesis of property appreciation, is the process by which the value of your investments decreases over time. You must carefully choose your asset because not all real estate is guaranteed to increase in value. To prevent purchasing real estate with the potential for depreciation, conduct extensive real estate statistics research and market analysis, and then consider your property's location and economic growth.
Real Estate Terms Beginners Should Know
One of the first things you would observe while learning to invest in real estate is the profusion of industry-specific jargon and acronyms. Although there are many, it is crucial to understand at least the fundamentals of real estate jargon so that you can communicate with your new colleagues in the field.
Take note of the following terms:
1.     Capitalization Rate:
The value of an investment agreement is determined using a calculation known as the capitalization rate, or "cap rate," for short. The current market value of a property is always used to calculate the cap rate, which is expressed as a percentage.
2.     Cash flow:
It is a term used to describe the inflows and outflows of cash in both personal and company finance. For instance, a landlord may frequently determine the monthly cash flow, the total rental income the property generates less all expenses. The properties that will provide a positive cash flow each month are what investors will look for.
3.     Net Operating Income (NOI):
The cash flow projection and net operating income, or NOI, go hand in hand. After deducting all monthly costs from the monthly rental income, the sum of the remaining dollars is the net operating income. To put it simply, this is the part of the business that makes money.
4.     Real estate investment trusts (REITs):
REITs are businesses that typically own and manage portfolios of assets that generate revenue from real estate. Some REITs will focus on particular markets, like residential or commercial ones. REITs may be excellent for investors wanting to play a more passive role in real estate investing.
5.     Real Estate Owned (REO):
REO properties are those that lenders, usual banks, have reclaimed and now own. A lender would typically remove liens and fees from a property after foreclosure so it can be sold more quickly. For investors looking to buy real estate for less than market value, REO properties are a fantastic choice.
6.     Return On Investment (ROI):
The most popular metric for gauging the relative performance of an investment agreement is the return on investment (ROI). The relationship between net profit and capital used for the investment determines ROI. The gains are better when the ratio is larger.
MUST-READ AND SHARE!
2023 Your Practical Wedding Guide
Your Ultimate Access to Kuwait Directories in this COVID-19 Crisis
Investments and Finance Ultimate Guide
OFW FINANCE – Money News Update that you need to read (Table of Contents)
A Devotional for having a Grateful Heart
Stock Investment A Beginner's Guide
How To Save Money Amidst Inflation
Philippines Best Banks with High-Yield Savings Return
Essentials Before Applying For a Credit Card
If you like this article please share and love my page DIARYNIGRACIA PAGE Questions, suggestions send me at diarynigracia @ gmail (dot) com
You may also follow my Instagram account featuring microliterature #microlit. For more of my artworks, visit DIARYNIGRACIA INSTAGRAM