Last Updated on 2 weeks by DiaryNiGracia
Are you looking for a straightforward passive income opportunity? The most undervalued passive income source in the Philippines is investing, which the general public has ignored for a long time. Filipinos have been cautious with their savings all these years, but we all know it is insufficient if you want to endure inflation. The administration has finally removed the obstacle preventing the general public from investing in and benefiting from the country's economic growth. The MP2 program, often known as the Modified Pag-IBIG II savings program, is how this is done.
Although it is a savings program, your money is not left idle but instead invested in the Pag-IBIG home loans, corporate bonds, and government securities (which are all repaid with interest by member-borrowers). The MP2 is less hazardous than stocks and other high-risk instruments because it is invested in fixed securities.
Mins to Read: 12 minutes
Age: 18-54 years old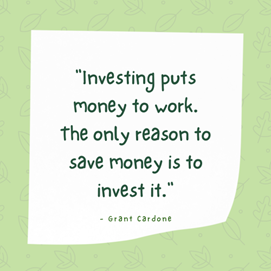 Members of Pag-IBIG can safely open an MP2 Savings account online. It is one of the services offered by Virtual Pag-IBIG. Here is a guide on the MP2 Savings Program, detailing what it is and how to apply online.
What is Pag-IBIG MP2?
The Modified Pag-IBIG II (MP2) Savings Program is a unique and optional savings facility with a 5-year maturity. It is created for active Pag-IBIG Fund members who prefer to save more and receive even more significant returns in addition to their Pag-IBIG Regular Savings.
Anyone who previously belonged to the Pag-IBIG Fund (pensioners and retirees), regardless of age, and who has at least 24 months' worth of savings before retirement is also qualified for the program.
Pag-IBIG claims to set aside at least 70% of its yearly net profits as dividends, which are then proportionately credited to the Pag-IBIG Savings of its members. This implies that a member will receive bigger payouts the more they have saved.
Furthermore, following its charter, Pag-IBIG Fund allocates at least 70% of its investible funds to housing finance. Additionally, it makes investments in business and government bonds. The Pag-IBIG MP2 Savings program generates a greater dividend rate than the Pag-IBIG Regular Savings program because it is an optional program.
MP2 Savings Benefits
The MP2 program helps Filipinos save money and invest it in simple, reasonable, and successful ways. Here are some introductory details regarding the savings program to aid you in making your decision if you aren't sure whether to open an MP2 account just yet.
Budget-friendly investment – You may purchase MP2 for as little as 500 per month. There are no penalties if you don't make an MP2 contribution for a particular month, but it's advisable to remit your contributions regularly.
Government-guaranteed savings – You can be sure you won't lose your principal because the Philippine government guarantees them.
Tax-free dividends – Receive your MP2 dividends tax-free yearly or every five years.
Above-market dividend rate – The Pag-IBIG MP2 interest rate is higher than the standard Pag-IBIG savings program and even that of bank accounts, time deposits, and other investment vehicles.
There is no limit to how much you can save. – Transfer as much cash as your budget will allow into your MP2 account. A personal/manager's check is necessary for one-time payments that total more than Php 500,000.
Multiple MP2 savings accounts – You are permitted to open an unlimited number of MP2 accounts. This is perfect if you're saving money for various purposes, such as emergencies, a child's education, a trip, retirement, etc.
Five-year maturity period – You can withdraw your MP2 savings once five years have passed since they reached maturity. The MP2 savings program is, therefore, appropriate for medium-term investing objectives.
Who Can Save Under MP2 Program?
Suppose you fall under one of the following categories. In that case, you are eligible for the MP2 savings program:
Members of the Pag-IBIG Fund who are active, irrespective of monthly income
Former Pag-IBIG participants who earn more money each month
Retirees of any age who contributed to Pag-IBIG I at least 24 times per month before to retirement
Inactive members who have ceased paying Pag-IBIG contributions may re-enroll in MP2 by resuming payments till they meet the minimum monthly contribution requirement of 24.
Before opening an MP2 savings account, you can register online as a Pag-IBIG member and make contributions for at least 24 months.
Pag-IBIG MP2 Application
Pag-IBIG offices accept MP2 savings program applications both online and in person. Read on to discover how to open an MP2 savings account.
MP2 Walk-in Application Procedure
If you have other things to do at the adjacent Pag-IBIG office, you might as well open your MP2 savings account there. Check the Pag-IBIG office's hours before visiting because they are subject to change at any time to comply with governmental regulations.
Pag-IBIG MP2 Requirements
Submit the following records with your MP2 application: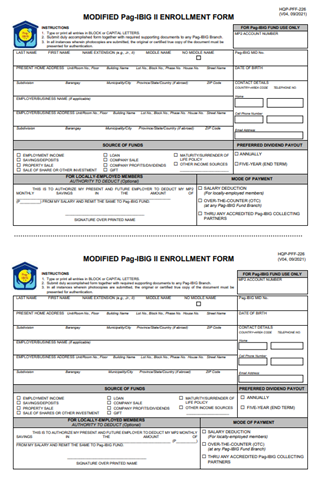 STEP 1: Submit a completed Modified Pag-IBIG II Enrollment Form to the Pag-IBIG branch closest to you.
STEP 2: The officer will assign an account number for your MP2 accounts after encrypting your information. You'll send your funds using this account number.
STEP 3: Let the Pag-IBIG officer know if you wish to pay your first monthly MP2 savings immediately. You'll receive a receipt with your payment queue number on it.
STEP 4: Proceed to the cashier when your number is called and pay the amount you specified on your MP2 enrollment form. Get your certified receipt.
MP2 Online Application Procedure
The steps for submitting an online MP2 savings program application are as follows:
STEP 1: Visit www.pagibigfundservices.com/MP2Enrollment to access the Modified Pag-IBIG II Enrollment page. Enter the following details:
Pag-IBIG MID Number (12-digit MID)
Last Name
First Name
Date of Birth (MM/DD/YYYY format)
Enter the code shown on the captcha for verification
Click the SUBMIT button to continue.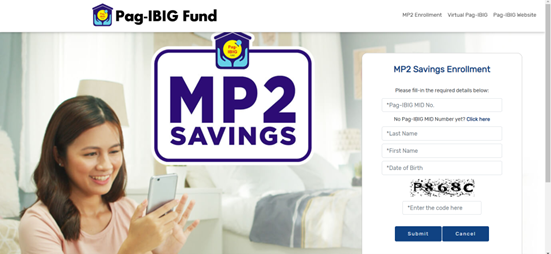 STEP 2: To complete the enrollment, enter the following information:
Desired Monthly Contribution – enter the monthly payment amount you want to make for your MP2 savings.
Preferred Dividend Payout – Select your preferred option whether you want your MP2 dividends to be paid out annually or after the five-year term.
Mode of Payment – Select your preferred option; you have the option of paying your MP2 contributions in cash at any Pag-IBIG bank or through any Pag-IBIG Fund-accredited collecting partners.
Source of Funds – Select your preferred option for your primary source of income, where you will receive your MP2 payments.
Click the SUBMIT button.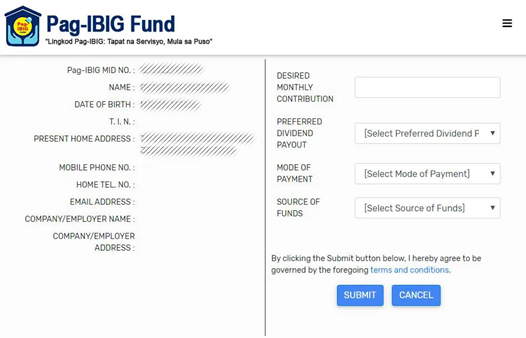 STEP 3: Your Modified Pag-IBIG II Enrollment Form will be accessible, along with your 12-digit MP2 account number. You can print or save this form as a PDF file.
STEP 4: You can begin making payments for either one-time MP2 savings or monthly MP2 savings. Your 5-year term will start the day you make your first payment.
How Does Pag-IBIG MP2 Earn?
Earnings from dividends are tax-free, so you'll get the total amount without paying the last 20% withholding tax.
Divide the applicable year's dividend rate by your average monthly balance to determine your MP2 dividend.
The method for calculating MP2 dividends is as follows:
Dividend = Dividend rate x Average monthly balance.
The MP2 dividend cannot be calculated as quickly as it appears.
Understanding what the dividend rate and average monthly balance mean is crucial before beginning the calculation.
The dividend rate is the interest rate calculated based on the Pag-IBIG Fund's annual net income. The Fund typically publishes a news release on the Pag-IBIG website in the first or second quarter of the following year announcing the dividend rate for a specific year.
For example, the Pag-IBIG Fund reported in early 2022 that the payout rate for 2021 was 6.00%.
The average monthly balance, on the other hand, relates to the average of your MP2 saves as of year's end. You must first know your annual total savings, then divide that by 12 to determine your average monthly balance (months).
Calculate the average after recording your monthly MP2 savings in an Excel file or Google Spreadsheet for a more straightforward calculation.
For instance, from January to December 2022, you will save Php 500 per month. Your total savings plotted on a spreadsheet, look like this:
| | |
| --- | --- |
| Period | Cumulative Savings (Php) |
| Jan-20 | 500 |
| Feb-20 | 1,000 |
| Mar-20 | 1,500 |
| Apr-20 | 2,000 |
| May-20 | 2,500 |
| Jun-20 | 3,000 |
| Jul-20 | 3,500 |
| Aug-20 | 4,000 |
| Sep-20 | 4,500 |
| Oct-20 | 5,000 |
| Nov-20 | 5,500 |
| Dec-20 | 6,000 |
| Accumulated Sum | 39,000 |
| Average Monthly Balance | 3,250 |
The total amount of savings for 2022 is Php 39,000 in total. This can be divided by 12 to produce a quotient of Php 3,250. Your typical monthly balance is that amount.
Accumulated Sum = (500 + 1,000 + 1,500 + 2,000 + 3,000 + 3,500 + 4,000 + 4,500 +
5,000 + 5,500 + 6,000) = Php 39,000
Average Monthly Balance = Php 39,000 / 12 = Php 3,250
Using the AVERAGE function in Excel or Google Spreadsheet makes calculating the average monthly balance and produces the same result: Php 3,250.
Based on a dividend rate of 6.0%, you can already calculate the dividend for the year 2022.
Dividend = Dividend rate x Average monthly balance
                = 0.06 (dividend rate) x Php 3,250 (average monthly balance)
Dividend = Php 195
Php 195 is your total dividend for the year 2022. Follow the same procedure above to calculate your dividends for the following four years.
If you choose compounded savings, don't forget to increase your total savings in January next year by the dividend amount from the previous year.
The dividend amount from the prior year should not be added to the current year if you choose the yearly dividend payout option, though, as it is paid to you each year.
If you deposit Php 500 per month into your MP2 account (based on a 7.5% dividend rate), the table below from the Pag-IBIG Fund illustrates the annual dividend distribution over five years.
| | |
| --- | --- |
| Year | Dividend Rate |
| 2021` | 6.00% |
| 2020 | 6.12% |
| 2019 | 7.23% |
| 2018 | 7.41% |
| 2017 | 8.11% |
| 2016 | 7.43% |
| 2015 | 5.34% |
| 2014 | 4.69% |
| 2013 | 4.58% |
| 2012 | 4.67% |
| 2011 | 4.63% |
Where to Pay for Your MP2 contribution?
You can begin saving under the investing program once your MP2 enrollment is complete. You have two options for funding your MP2 savings account: a one-time lump sum payment or monthly contributions of smaller sums.
There are three main ways to contribute to MP2:
Your employer deducts from your pay
At any Pag-IBIG branch, personally
Or through any recognized partner in the collection.
For employees, salary deduction is the most excellent payment method because MP2 savings are automatically taken out of their paychecks and deposited into their MP2 accounts.
For independent contractors, business owners, and unemployed Pag-IBIG members, the most practical payment method is through third-party payment channels, particularly online services.
Over-the-Counter Payment Centers:
7-Eleven (Must first obtain an ECPay website Payment Instruction Page)
Bayad Center
ECPay
Lhuillier
SM Business Centers (Including Savemore and SM Hypermarket bills payment counters)
Online Payment Channels:
| | |
| --- | --- |
| Pag-IBIG MP2 Online Payment Channels | Payment Methods Accepted |
| Pag-IBIG Online Payment Facility | PayMaya, Visa, Mastercard, and JCB credit cards |
| Gcash app | Gcash wallet |
| Coins.ph app | Coins.ph wallet |
| Moneygment app | Moneygment wallet, bank deposit, PayPal, ECPay, Dragonpay, 7-Eleven |
Remember: Choose "Modified Pag-IBIG 2" as your payment type and enter your MP2 account number into any online payment system you choose.
When Can You Receive Your MP2 Dividends?
You can select one of the following methods to get your MP2 Dividends:
At the end of its 5-year term, after compounding your MP2 Dividends; or
Annually, your MP2 Dividends will be deposited into your savings or checking account at the Land Bank of the Philippines (LBP), Development Bank of the Philippines (DBP), or any other institutions that the Pag-IBIG Fund may later authorize. In the case of foreign members who choose to receive their dividends annually but do not have a Philippine bank account, MP2 Dividends will be paid out through a check made payable to the MP2 Saver.
Can MP2 Savings be Withdrawn Before its Maturity?
As with other investments, it's ideal to merely let your MP2 account's money grow until it reaches maturity. You can optimize your revenues in this manner.
However, you could need to use your MP2 funds if a terrible circumstance in your life arises. Any of the following situations would permit early withdrawal from the Pag-IBIG Fund:
Total disability or insanity
Employment termination for medical reasons
Death or severe sickness of the MP2 account holder or a member of their immediate family
Retirement
Migration to a different country
Unemployment as a result of layoffs or business closure
OFW repatriation from the host nation
Your savings may be withdrawn for purposes other than those permitted by Pag-IBIG. But you'll only receive half of the total income earned (if you selected to receive dividends after five years) or merely your contributions (if you choose the annual dividend distribution option).
Risks in MP2 Program
Even if this savings program has advantages, there are also disadvantages. Here are a few things to remember.
1. Your Account Will Mature After Five Years.
Your MP2 savings mature after five years as opposed to bank savings, which you can keep for as long as you like. When your savings account matures, you must open a new MP2 account.
2. Dividends are not payable following the five-year lock-in period.
If you decide not to withdraw your funds after the five-year maturity period, Pag-IBIG will automatically stop your dividend earnings.
Conclusion
Putting money into the Pag-IBIG MP2 program is an intelligent method to increase your savings and support your future financial objectives. It also works well as a passive income source because you can let a modest sum of money work for you.
If you consistently save money each month for five years, you'll develop a healthy savings habit in addition to a savings fund. Additionally, you are ensured that you won't lose your money because the government backs it up.
Can Pag-IBIG MP2 be an effective passive income source? Definitely! You truly have nothing to lose by investing here, and it's a solid and secure choice if you want to diversify your portfolio. Except for the 5-year lock-in term, it is less limiting than other investments, and its returns are encouraging.
This investment channel is the ideal spot to start your investing adventure if you want a passive income but are unsure where to begin.
MUST-READ AND SHARE!
2023 Your Practical Wedding Guide
Your Ultimate Access to Kuwait Directories in this COVID-19 Crisis
Investments and Finance Ultimate Guide
OFW FINANCE – Money News Update that you need to read (Table of Contents)
A Devotional for having a Grateful Heart
Stock Investment A Beginner's Guide
How To Save Money Amidst Inflation
Philippines Best Banks with High-Yield Savings Return
Essentials Before Applying For a Credit Card
If you like this article please share and love my page DIARYNIGRACIA PAGE Questions, suggestions send me at diarynigracia @ gmail (dot) com
You may also follow my Instagram account featuring microliterature #microlit. For more of my artworks, visit DIARYNIGRACIA INSTAGRAM